Social Robots Teach Cyber Security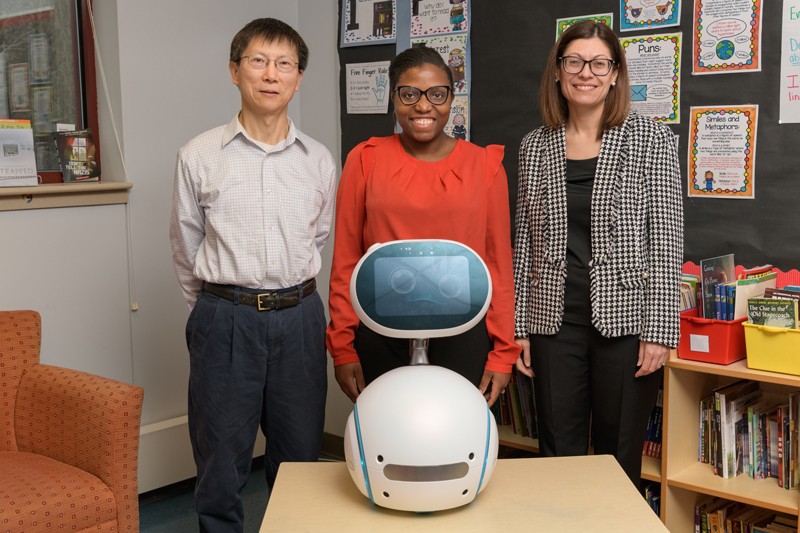 UD-developed teaching tools helps children become safe digital citizens
February 10, 2020
Fifth graders from The College School on the University of Delaware's Newark campus recently learned important lessons about safeguarding information online from an unusual teacher — Zenbo, the social robot.
Standing more than two feet tall, the cute classroom companion was preprogrammed with familiar children's stories, such as Little Red Riding Hood, that a team of UD researchers creatively adapted for the digital age.
The idea: to help children learn cybersecurity and good digital citizenship using tools that engage and sustain young attention spans. Digital citizenship focuses on online safety and the ethical and responsible use of the internet.
As Zenbo began reading the story, Little Red Riding Hood was departing to visit her sick grandmother. Her mother reminded Red to safeguard the password required to enter her grandmother's home. When she encountered the Big Bad Wolf in the woods, Red had to choose whether or not to share private information with a stranger.
Zenbo paused and solicited input from the class of fifth graders about what to do next. On this particular Tuesday, student opinion was split on whether it is okay to share information that could help the wolf figure out the grandmother's home security password. Half of the students thought it would be okay to share personal information, while their peers considered it a risky move.
"These checkpoints reinforce positive behaviors and create teachable moments for when children make mistakes," said Chrystalla Mouza, Distinguished Professor in Teacher Education in UD's College of Education and Human Development (CEHD). "It's important that this training is provided in school because we cannot rely on it being provided elsewhere."
Mouza is collaborating with Chien-Chung Shen, professor of computer and information sciences in the College of Engineering, and Tia Barnes, CEHD assistant professor of human development, on the National Science Foundation-funded project that aims to test news ways to deliver cybersecurity training in the classroom.
The work grew out of Shen's previous efforts to help establish an academic minor and a master's program in cybersecurity at UD.  Shen realized that children in kindergarten through 12th grade (K-12) were an overlooked audience for cybersecurity instruction. As internet users across the globe celebrate Safer Internet Day on Tuesday, Feb. 11, it also is an important reminder that cybersecurity education is necessary for more than just adults.