Increasing diversity in teacher ed programs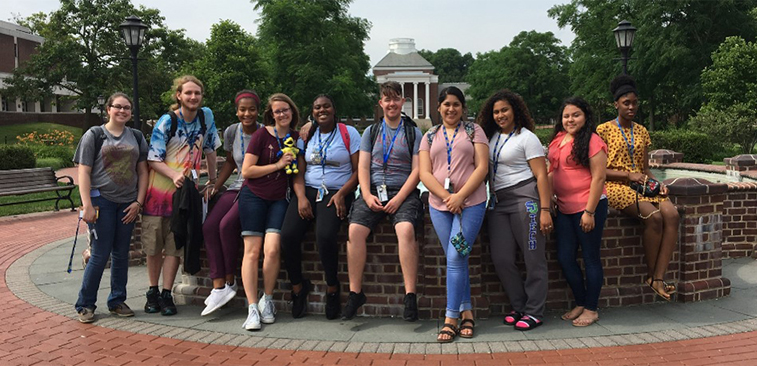 For the past two summers, a select group of Delaware high school students, primarily from underrepresented backgrounds, spent two weeks on the University of Delaware campus, as part of the new Teachers of Tomorrow (TOT) program. This program, developed by the College of Education and Human Development (CEHD) and funded through a UNIDEL grant, allows students to get a sense of what it's like to be a teacher education student.
CEHD launched this teacher education pipeline program in an effort to attract more underrepresented students to the field of education.
"As our schools become more diverse, we need to have more teachers in the classroom with whom those students can identify. These teachers serve as mentors and role models for students who have similar life experiences, and also provide a cultural bridge for others in the classroom. This helps support all students on their respective journeys of intellectual, social and emotional development," said Kristine Ritz, senior assistant dean and program director of the TOT program.
TOT recruits rising juniors and seniors who have expressed an interest in teaching, to participate in a one- to two-year program that introduces them to the field of education and provides them with the skills necessary to succeed in college.
Once accepted into this program, students:
attend a summer institute on the Newark campus where they are introduced to the university's early childhood education, elementary teacher education and  secondary education programs.
are guided through the College Application and Financial Aid/Scholarship processes
receive mentoring to build critical academic and study skills
and can qualify for tuition support for up to nine credits for UD courses.
All these services are provided to students free of charge, as part of the UNIDEL grant.
Teachers of Tomorrow recruitment process
In the fall, Teachers of Tomorrow hosts a fall visitation day for Delaware high school students interested in pursuing a career in teaching. While on campus, students observe an education class in progress, attend an admissions presentation, tour campus and receive information on the Teachers of Tomorrow program.
In January, the online application process opens, followed by personal interviews conducted by Teachers of Tomorrow staff across the state. Upon notification of admission, students and their families are invited to information sessions in Newark and Milford, Delaware (or online) to learn more.
The first year, 10 students attended the summer institute, and in 2019, 23 students were selected. For two weeks in June, these students live on campus and:
Participate in academic sessions designed to strengthen their math and English skills
Engage in leadership development activities
Attend seminars to increase the students' understanding of such topics as how to study effectively, how to balance college academic demands, and what it means to be a teacher and to have a career in education.
These sessions are led by CEHD academic advisors including Imani Powell, academic advisor in the Office of Student Support Services; William Lewis, assistant professor of Education; Tony Mixell, 2019 graduate of the Ph.D. in Education program, and Deandra Taylor, Ed.D doctoral student.
In addition to the academic components, students tour UD's Children's Campus—which includes three learning centers for children ages 6 months to 12 years—meet with admission officers to discuss the admissions process, engage in leadership and values clarification building activities and have fun.
Participants are invited to additional support sessions throughout their senior year to assist them with completing college applications and FAFSA forms, and continue to prepare them for the rigors of college life.
Support leads to success
Of the six high school seniors who began Teachers of Tomorrow in 2018, four have enrolled in a teacher education program at UD, where they will continue to receive support, mentoring and academic advisement through the program.
In 2019, 23 students were selected to attend the 2019 Teachers of Tomorrow summer institute, including 16 women and 7 men, 14 students who identify as African American, Asian American or Latin American, 11 rising juniors and 12 rising seniors from all three counties in Delaware.
"Participants in the program have shared that this is a very positive experience for them," said Powell, TOT program manager. "We are confident that it will lead to positive outcomes for both the students who enroll in our teacher education programs and the children in their classrooms."
To learn more about how to enroll in UD's TOT program, visit Teachers of Tomorrow pipeline webpage.