Education Policy and Practice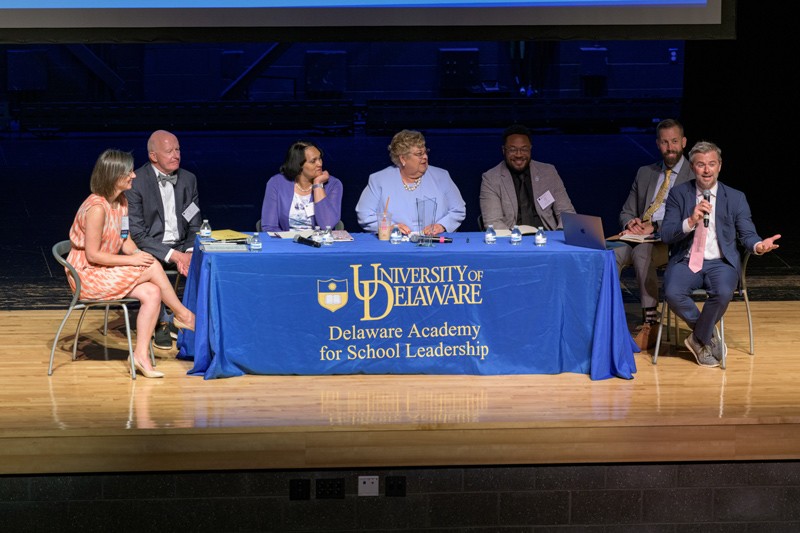 20th annual institute on public education celebrates its founding, focuses on the future
August 9, 2022
The energy within the walls of Dover High School was electrifying on June 28, 2022, as more than 500 teachers, principals, superintendents and other education professionals from throughout the state of Delaware and the Mid-Atlantic region gathered in person for the first time in three years for the University of Delaware's 20th annual Policy and Practice Institute.
With a goal of providing educators the tools and information needed to succeed in their careers, the conference convened field experts around best practices in delivering excellent classroom instruction and school leadership for all students.
Annually hosted by the College of Education and Human Development's (CEHD) Delaware Academy for School Leadership (DASL), this year's event saw the addition of new partners, including the UD Partnership for Public Education (PPE), the Delaware Department of Education (DDOE) and the Delaware Association of School Administrators.
"By co-hosting and working with organizations who share many of the same opportunities and challenges, we are better able to work together to incorporate today's learning into the state of Delaware's diverse public education system," said Elizabeth Farley-Ripple, PPE director and UD School of Education associate professor. She moderated a panel discussion and led breakout sessions during the event.
Opening the conference were keynote speakers Alan Blankstein, founder of the professional development firm Solution Tree, and author of the best-selling book: Failure is Not an Option: Six Principles That Guide Achievement in High Performing Schools, and Marcus Newsome, director of the Virginia Superintendent's Leadership Academy. Delaware Secretary of Education Mark Holodick also gave remarks praising the longevity of the conference and the value it has brought to teachers and educational leaders from around the state for the past 20 years.
"The response to this year's conference was unprecedented," Farley-Ripple said. "Leaders from across the state and the system showed up to reconnect and re-engage with others around their own professional learning. Classroom teachers, principals, district leaders, superintendents — even retired ones — and state leaders were all there together, side-by-side. It's just remarkable after everyone has been through so much this past year to see about 500 people prioritize learning, collaboration and growth. It's inspiring, and I'm so glad that me and my colleagues at UD had the opportunity to be a part of this event."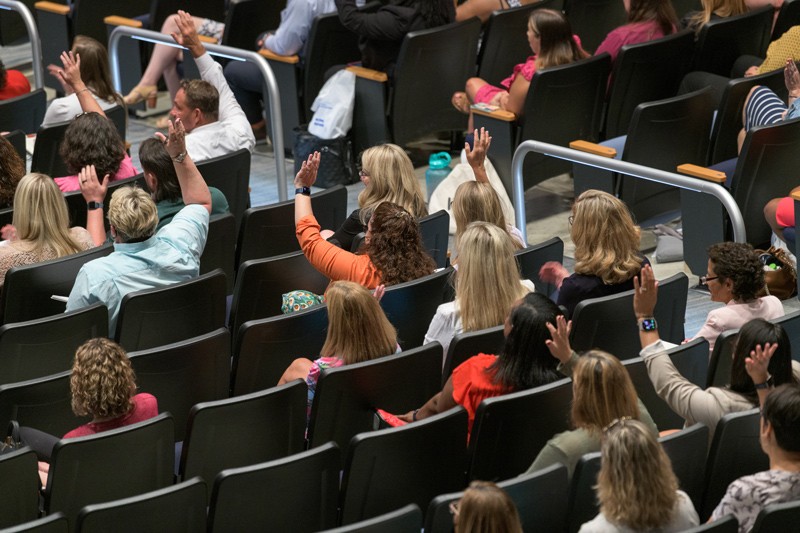 DASL Director and Policy and Practice Institute founder Jackie Wilson also shared in the enthusiasm. "It's hard to believe it's been 20 years since the first Policy and Practice Institute took place," she said. "It began when I was at the DDOE, but when I came to DASL, I was able to partner with faculty and staff to expand our reach to benefit educators across the state. We expanded the conference to include faculty, practitioners and policy leaders who could share exemplary practices taking place nationally and in our state. It hasn't always been easy, but it has been fun and I am grateful to all those who joined along for the ride."
Within this year's theme of "Celebrating Resilience and Envisioning the Future," attendees discussed the challenges and successes they experienced during the pandemic shutdowns while looking toward a bright future for education in Delaware. They also participated in a selection of research-based professional learning sessions on subjects spanning the current educational landscape. For example, Jon Kittle, a UD doctoral student specializing in literacy, facilitated a session on literacy development and instruction for multilingual learners, while other presentations focused on the collaborative relationship between school counselors and school district administration, and more.
"It was exciting to see many of my peers presenting on the work that drives them to improve education in Delaware and nationally," said Casey Montigney, an instructional coach and improvement leader in the Christina School District. During the conference, Montigney presented on Equity Quad Text Sets — a research-based framework using different, yet related, texts (such as books, videos or music) to teach social justice concepts. "After [my session], we were able to discuss connections across our learning. This is what this conference is all about."
Of special note during the event was the recognition of Wilson ahead of her retirement from UD in fall 2023. A passionate advocate for excellence in teacher education and school leader development, Wilson has spent more than 40 years in the field as a teacher, administrator and advocate for public schools throughout the state of Delaware.
In her decades-long career, she has developed educator training and state policies supportive of national standards, and has helped improve working conditions for school leaders. In addition to her current UD roles as the leader of DASL and assistant professor in the SOE, Wilson has also served as director of professional accountability at the DDOE. In 2001, she was selected as a U.S. Department of Education National Blue Ribbon School Principal and in 2002 she was named Delaware's National Distinguished Elementary School Principal.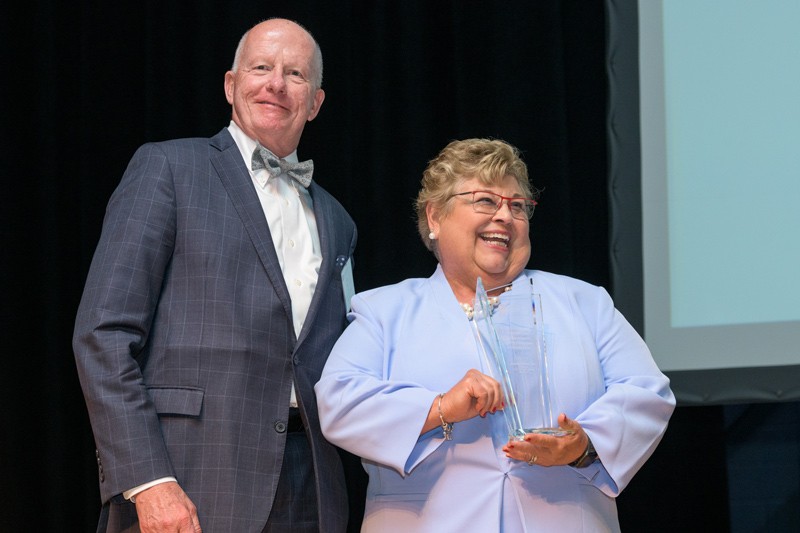 "Although many have contributed to its organization and success through the years, this event would not exist if it weren't for Jackie Wilson's creativity and leadership," said CEHD Dean Gary T. Henry in recognizing Wilson during the conference. "Her energy and passion have been instrumental in shaping DASL into the nationally recognized and award-winning professional development, research and policy center that it is today. She has worked tirelessly to build relationships and implement effective strategies with school districts and the Department of Education for the continuous improvement of Delaware schools."
Wilson thanked Henry and colleagues for their ongoing support of her work.
"It has been the highlight of my career to work with faculty and staff at the University of Delaware," Wilson said. "I have had the opportunity to teach and advise graduate students in our outstanding academic programs. I have also been able to collaborate with faculty and center directors on research-practice partnerships. What a wonderful place to work, learn and contribute."
Article by Sara Cakebread | Photos by Evan Krape | August 08, 2022