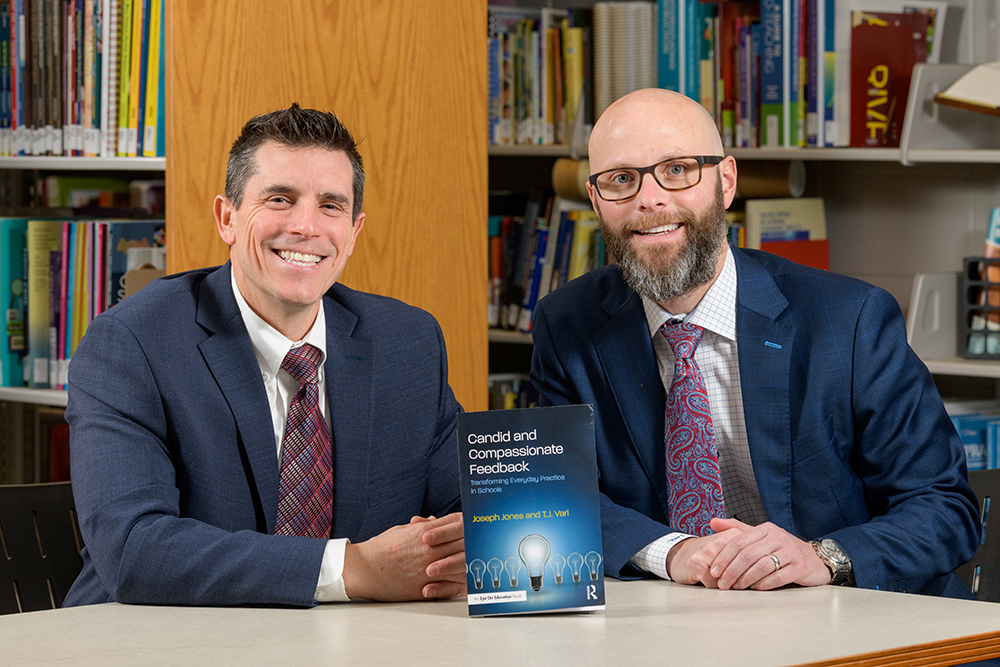 Alumni are an important part of our CEHD family.
See what exciting news has been happening in their lives in 2019!
Click to see past updates from classmates.
ALUMNI UPDATE
Did you get a new job, win an award or write a book? Share your news with us. 
During the CEHD Alumni Weekend Reception on June 7, 2019, we presented three awards to noteworthy alumni:
Shelby Dorr, BS '15, MEd '16 – Excellence in Education Award
Michael Hannon, BS '98, MEd '00 – New Graduate Alumni Award
Cary Riches, MI '07, EDD '16 – Leadership and Community Service Award
Three alumni and one graduate student from the University of Delaware's College of Education and Human Development have been named as finalists for the 2020 State Teacher of the Year Award.
Rebecca Vitelli, ECE '14, MEd '16, Colwyck Center, Colonial District
Brennan Clarke, current MA student, Shields Elementary, Cape Henlopen District
Stephen Landry, HS '06, Appoquinimink High School, Appoquinimink District
Erica Richard, MEd '17, East Dover Elementary, Capital District
Jenna Albi, ETE '15, is a special education teacher at Hardy Williams Mastery Charter School, a Title 1 school in Philadelphia. She was recently awarded two gifts on the Ellen DeGeneres show.
Carleigh Antico, ETE '18, first-grade teacher at Success Academy Hudson Yards, won an Excellence Award in the Rookie of the Year category, which recognizes first-year teachers who have embraced the challenge and demonstrated exceptional growth.
Cori Breindel, HS '17, is a first-grade ICT teacher at Success Academy Harlem 2 (ICT stands for Integrated Co-Teaching Class, which mixes general and special education students). Cori earned an Excellence Award for Growth, which recognizes educators who have exhibited exceptional progress in achieving excellence since the start of the school year.
Dandan Chen, MA, now a doctoral student in SOE, was presented the prestigious Outstanding Dissertation Award by AERA's special interest group in School Community, Climate and Culture. Chen's dissertation, "Optimizing the precision and efficiency of the Delaware School Climate Scale: An application of multivariate generalizability theory," investigates the accuracy of "school climate" survey data, which assesses how students, parents and teachers perceive the school environment.
Samantha Leonard, HS '19, recently published her first book, Groomed: Shining a Light on the Unheard Narrative of Childhood Sexual Assault, which raises awareness about the tactics sexual predators use to isolate and abuse their victims.
Nicole Magnusson, HS '12, is a fully-licensed Financial Advisor with Point to Point Wealth Planning, a private wealth advisory practice of Ameriprise Financial Services, Inc. She is licensed in DE, MD, and PA.
Frank A. Newton, EDD '10,  was named director of Newark Charter School, effective July 1. Newton has served in administrative and leadership positions in a variety of academic units throughout 25 years at UD, including associate dean for administration and operations in the College of Health Sciences, acting vice president and chief of staff for former Acting President Nancy Targett and assistant dean in the College of Earth, Ocean and Environment.
Brian Reece, M '10, published a book related to job searching and hiring practices in higher education called Debunking the Myth of Job Fit in Higher Education and Student Affairs. The book features contributions from a number of scholars and practitioners interrogating hiring practices in higher education through a social justice lens.
Jenna Roche, ETE '19, is a special education teacher in a first grade class in Matawan-Aberdeen, NJ.
Kelsey Shallow, ETE '18, third-grade teacher at Success Academy Harlem 4, received a Rookie of the Year Excellence Award.
Samantha Spoor, ETE '15, recently married Christopher Lo Porto on June 1, 2019. She is currently a sixth grade teacher at Elkton Middle School in Maryland.
Corey Webel, PHD '10, associate professor in learning, teaching and curriculum at Mizzou University published an article on managing classroom discussions and group work in high school classrooms that was selected by the National Council of Teachers of Mathematics for their 2019 "Best of TCM, MTMS and MT" edition.
Emmanuel Caulk, ETE '96, M '02, was named 2019 Kentucky's 2019 Superintendent of the Year. Caulk has served as superintendent of Ky's Fayette County School District since 2015.
Laura Cutler, ECE '03 and current PhD student, received the Excellence in Graduate Student Teaching Award from the University of Delaware. She is the sole instructor for a course in developmental disabilities.
Kevin Fitzgerald, EdD '03, superintendent of Caesar Rodney School District was named National Educational Administrator of the Year in 2019 by the National Association of Educational Office Professionals.
Dorrell Green, M '04 was named superintendent of Red Clay School District, the largest school district in Delaware, and named to UD's 2019 Athletics Hall of Fame for his outstanding football career at UD.
Joseph Jones, Ph.D. in Education '07, was selected as superintendent of New Castle County VoTech School District beginning July 1. In 2018, he also published a book for school leaders on how candid conversations can improve schools. The book, Candid and Compassionate Feedback: Transforming Everyday Practice in Schools, was co-authored with fellow UD graduate, T.J. Vari.
Lindsay Bank Warsaw, ETE '08, is teaching at PS/MS 206 in East Harlem, NY, along with four other UD alumni!
Deborah Bieler, BA, M'97, is a faculty member in UD's Department of English and is affiliated with the Sociocultural and Community-Based Approaches to Research and Education specialization in the School of Education. Her new book, The Power of Teacher Talk, is available through Teachers College Press.
(Please note, majors have changed over the years. Degrees are now referred to by their current listing, whenever there is an applicable equivalent.)
CEHD – College of Education and Human Development
ECE – Early Childhood Education
ETE – Elementary Teacher Education
HDFS – Human Development and Family Studies
HE – Home Economics (now HDFS)
HR – Human Resources (now HDFS)
HS – Human Services
TESL – Teaching English as a Second Language